Early Sunday morning the department was full of life as bleary eyed finalists arrived eager for their final field trip. The Spanish coastline would not disappoint, a week of beautiful sunshine and exciting, challenging geology lay ahead.
With the aim to unravel the tectonic regime that has dominated this region we started off on Monday looking at the metamorphic basement in the Sierras, which we returned to on Saturday to wrap up the week.
The geochemists were treated on Day 2 to a walk through the Messinian salinity crisis and a particularly memorable visit to the Gypsum caves in the Sorbas Basin. We were shown through the caves by Fernando and Jose Maria, who have done extensive work on these caves and specifically the spectacular spielothems. The students learned how important evaporation is in forming the gypsum and how Milankovich cycles have influenced gypsum precipitation by controlling the freshwater input to the basin.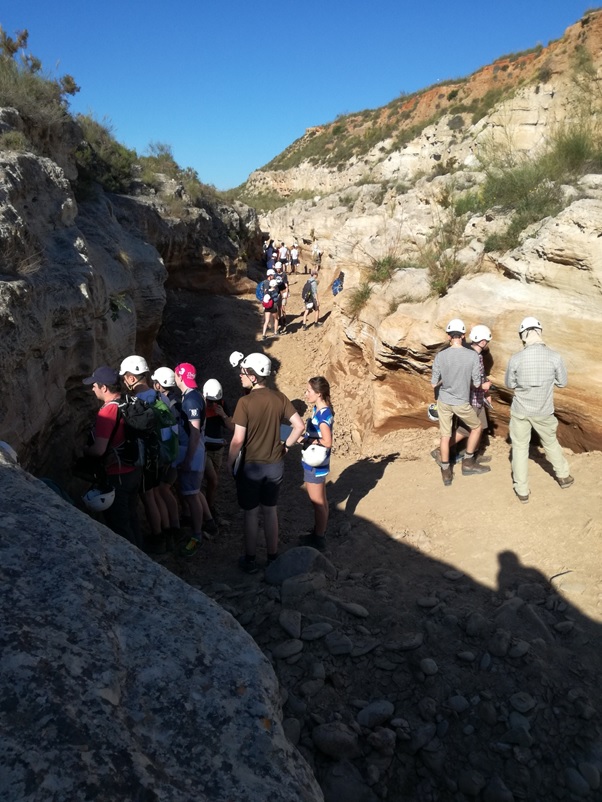 Mid-week had a sedimentary focus as we traversed through the Sorbas and Tabernas basins. The students saw textbook examples of turbidite sequences and many sedimentary structures. The final outcrop took us to El Gordo. El Gordo is a very large, odd sedimentary feature in the Tabernas Basin the nature of which is highly debated. The students took part in animated discussions to try and ascertain how El Gordo formed, a giant rip-up clast or the result of seismic slumping?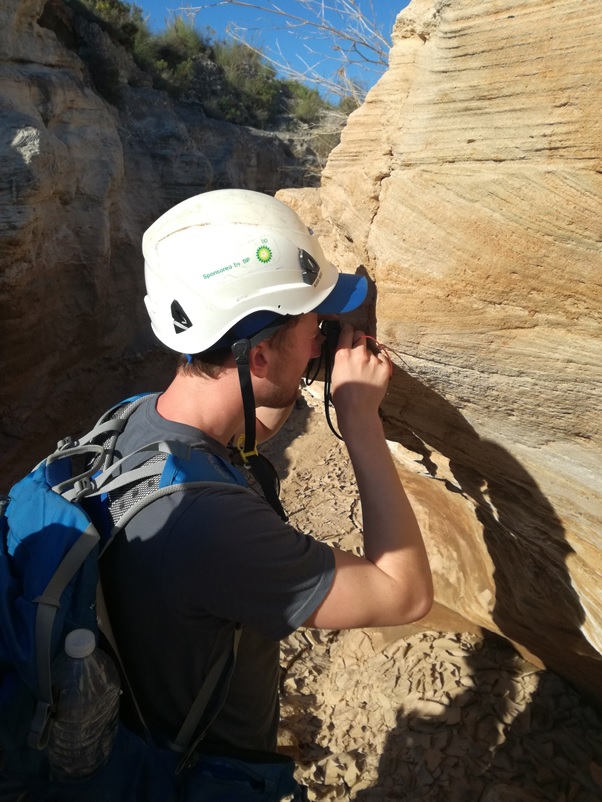 The final focus of the week was to tie in the volcanism to the tectonic regime we had built up a picture of in the previous few days, that of slab roll-back and back arc extension. With many keen volcanologists and petrologists in the year, the Cabo de Gata volcanics were a real treat as this is the first time many of them have seen volcaniclastics in the field. We studied the Cinto ignimbrite, marvelled at its extent and imagined the large caldera-forming eruption that produced it. The beauty of the Cabo de Gata volcanics is their location on the coast, and we had many wonderful beachside lunches and the occasional dip!
It was a fantastic field trip and one that was thoroughly enjoyed by the students and demonstrators alike. We were all sad to see it come to an end but agreed it was an excellent way to finish off four years of Earth Science in the department.
Charlotte Jackson MSci 2012-2016, PhD 2016-