Grace Campbell is an earthquake geologist and remote sensing specialist in Arup's Natural Hazard and Risk Management Team.
After gaining a Master's degree in Earth Sciences at UCL, Grace moved to Cambridge to study – firstly for an MPhil in Environmental Science and Remote Sensing at the Department of Geography, then moving to Earth Sciences to undertake a PhD on earthquake hazards in central Asia.
Grace has now worked at Arup for 5 years, and was recently recognised as one of 2021's Top 50 Women in Engineering. We caught up with Grace in the following blog post and heard more about her work on natural hazard and risk management.
How did you get interested in geoscience?
I have always been fascinated by the natural world and the landscapes that surround us. Why do mountains, rivers and deserts exist where they do? And how are they formed? As an undergraduate studying earth sciences, I picked up a keen interest in natural hazards, particularly earthquakes and how we can use their imprint on the landscape to better characterise seismic hazards.
One of the things I love about working in geoscience is how interdisciplinary it is. Knowledge in this area can be applied to help solve some of the world's biggest challenges, including climate change and sustainable development.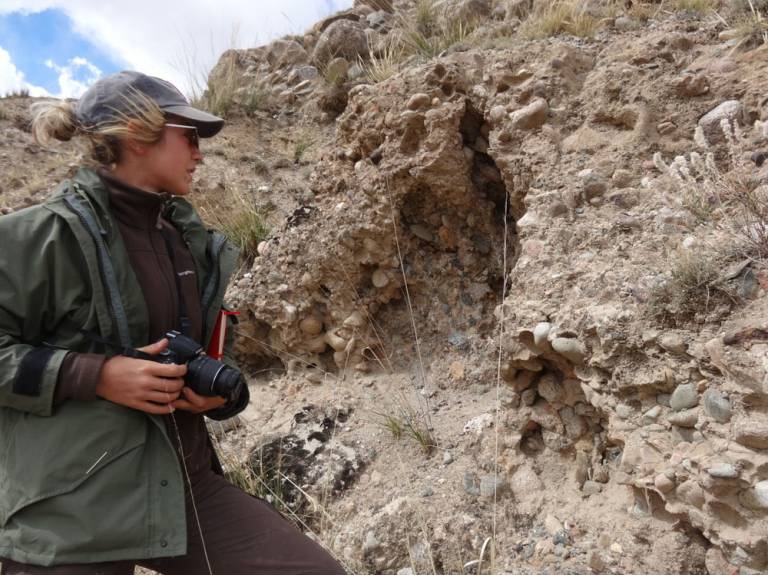 Tell me about your work at Arup
Although I'm a seismic hazard specialist by training, many of the projects I work on involve natural hazards more generally – ranging from landslides, flooding, and hazards related to climate change, for example sea level rise and coastal erosion.
Typically, our work sets out to understand hazards in terms of their frequency and magnitude. We then use this information alongside details on a specific location, including the buildings, infrastructure and vulnerability of people, to calculate the risk of fatalities and economic loss. This hazard and risk information helps us make recommendations for disaster-risk reduction strategies, including engineering measures. Often, our work is international, and includes projects in areas like Central and East Asia and Africa, which are highly susceptible to natural hazards.
Most recently, I have used my background in remote sensing to address challenges around biodiversity loss, including mapping habitat distribution using satellite imagery and machine learning. I've also been working on developing methods to detect plastics and other pollutants from space.
What's been the most rewarding aspect of your work?
Some of the most important and rewarding project work I have been involved in at Arup has been in Sierra Leone. We were asked by the World Bank to help respond to the 2017 landslide in Freetown, assessing the damages and human and economic losses across different sectors such as buildings, infrastructure, healthcare, education and environment. From that rapid response we then went on to work with the United Nations Office for Project Services to remediate and regenerate the landslide site in Freetown. We designed earthworks, moving about 100,000m³ of earth to improve slope stability, and planted about 21,000 native seedlings to help reinforce the terrain and reduce erosion. This project was challenging, but it was hugely rewarding to work with Sierra Leonean colleagues and support the capital city in responding to this disaster.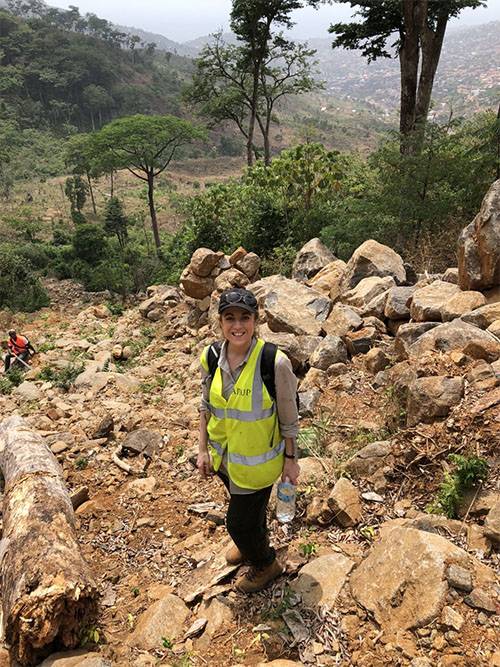 Before joining Arup you studied for a PhD at Cambridge?
My PhD investigated earthquake hazards in Central Asia, and involved fieldwork in remote, mountainous areas of Kazakhstan and Kyrgyzstan – often camping and working at high altitudes. I learnt a huge amount from our local partners, international collaborators and from my supervisors Prof James Jackson and Richard Walker. At the outset of my research very little was known about the seismic history of the Central Asia, i.e. the location of the major seismically active zones or how often they generated large destructive earthquakes. My work involved mapping faults both from satellite imagery and on the ground, together with recording evidence of ancient earthquakes in the landscape. Engineering consultancies like Arup use published data like this to help characterize the likelihood of future earthquakes and earthquake hazard in an area.
Have all these skills come in handy with your new job?
I draw on the skills gained both from my undergraduate and research degrees continually in my work. My background in natural hazards and remote sensing comes in handy of course, alongside skills like teamwork, leadership, communication, collaboration and working internationally with other interdisciplinary scientists and consultants. One of the big draws about working at Arup is that you're still able to apply for internal funding and develop research proposals in areas that interest you, so I continue to collaborate with colleagues in academia, formulate and test research ideas and write scientific papers.
What first attracted you to working at Arup?
I wanted to implement and share my research expertise, using it to solve real-world problems and make a difference in society. I was also driven to understand how the earthquake hazard information from my PhD could be used to inform seismically resistant structural design, increasing the resilience of society to earthquakes. In joining a multidisciplinary consultancy I've had lots of opportunities to think about wide-ranging themes and collaborate across international projects. I think that's the advice I would offer to people interested in taking a similar route: explore a range of subjects and don't worry about specializing initially – reach out to those running interesting projects and be proactive with finding potential opportunities.
Featured image 'the mighty Karakorum Highway, Pakistan – an engineering marvel', credit: Mariam Malik (Department of Engingeering, University of Cambridge) CC BY-NC-ND 2.0 on Flickr.