Day 1 – Off we go!
I'd never been to any part of the southwest so I was very much looking forward to my second Earth Sciences Department field trip – third if we count an afternoon at Ketton Quarry. My first big trip had been to Arran the previous year, to my mind it would take a lot to surpass that experience. This account will contain little to no geological verbiage in order not to bring shame to myself or the department.
Our first stop, on the Saturday afternoon was Ladram Bay, which is actually in Devon, not Dorset. What struck me most from then on, as a non-geologist, was the variety and beauty of the colours & shapes we would see in the rocks and cliff structures over the duration of the field trip, and of course the fossils.
From there we headed to our accommodation, an unpretentious but perfectly suitable hotel where we took our breakfasts and evening meals, and had evening briefings/presentations of the day's activities by the students. The Boot Inn was our 'local' for the duration.
Day 2 – Portland Bill (big winds & waves), Freshwater Bay and Bridport Sands
The day was a bright and sunny one but with strong gale force winds gusting up to 50mph. We drove to Portland Bill via Chesil Beach. Due to the dangerous gales we were unable to visit one of the customary sites, but there was still plenty to explore: a few feet from the water's edge in a disused quarry and by the cliffs nearby, I spotted my first fossils of the trip, embedded bivalves or molluscs and some burrows & trace fossils.
We were led to various places of interest and guided in making our own observations – this would be the pattern for each excursion. The students are learning to hone their skills in observing rocks, structures, cliffs, and quarries. To decipher not only what is there – the types of rock, minerals & palaeoecology within the rocks – but form ideas and thoughts about what happened by using these observations.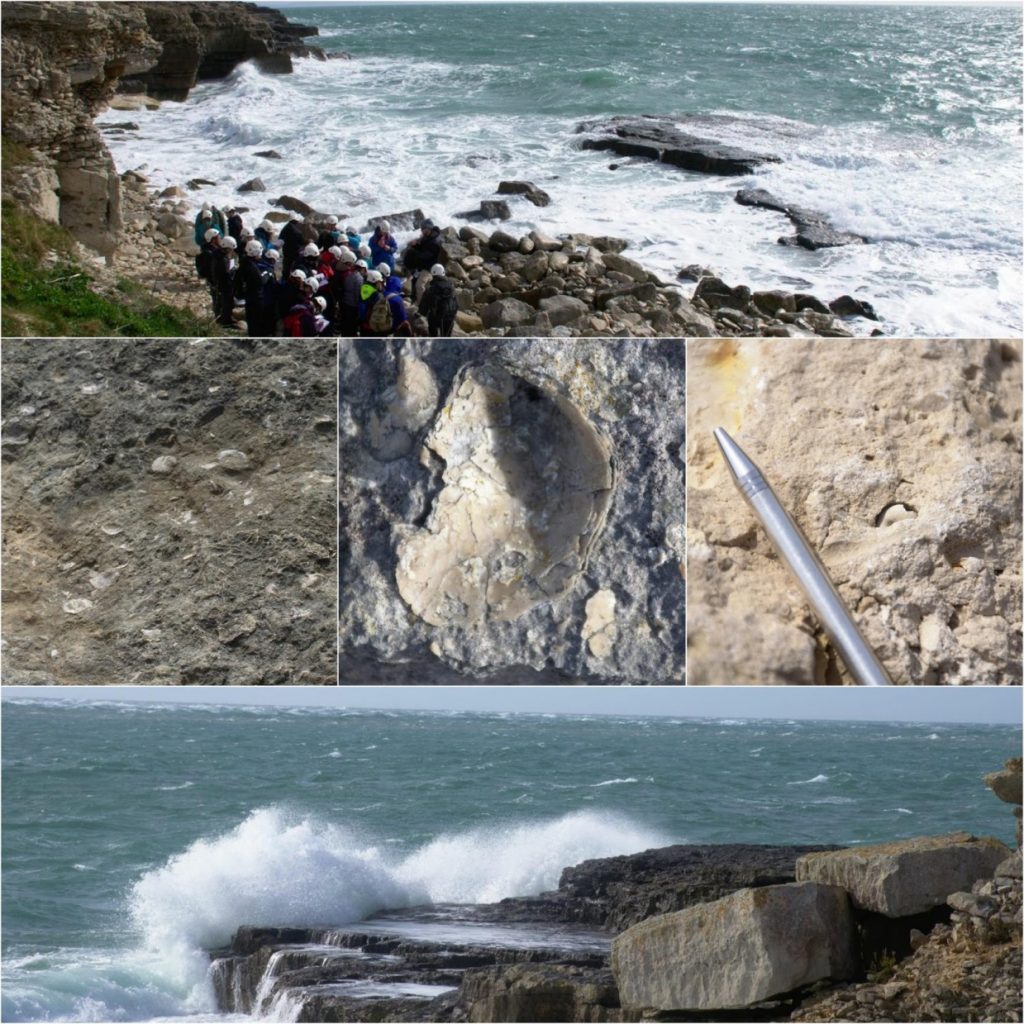 We stopped for lunch at the Portland Heights Hotel from which we had the most magnificent view of Chesil beach – or we would have had, had the day not been unrelentingly grey by this point. The wind hadn't let up and we all hunkered down by the Olympic rings and ate our lunches.
We then headed to Bridport Sands (Burton Bradstock), the highlight of the day's wanderings for me. I loved the colour of the cliffs – golden, almost glowing, bringing warmth to a damp, grey day – they were magnificent: tall, brittle, pockmarked, layered, fallen, falling, solid, fragile, permanent, impermanent. There were plenty of fossils too; small ammonites, and burrows and bivalves. A couple of students and I lingered behind to excavate a belemnite from a fallen boulder.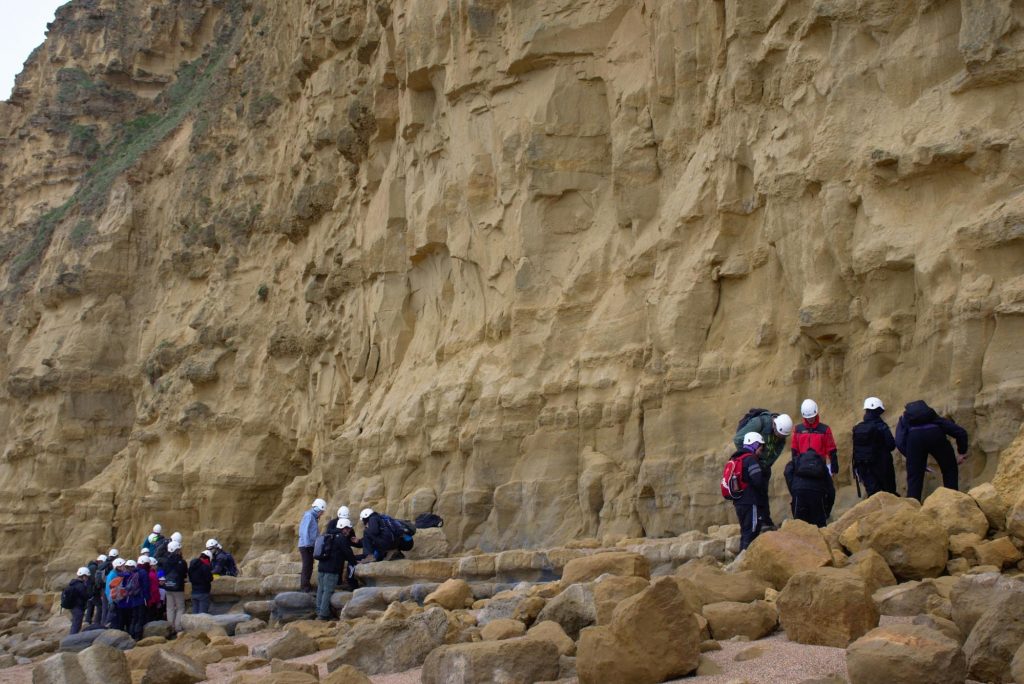 Day 3 – Kimmeridge Bay, the Steve Etches Collection & Osmington Mills
It was wet weather gear as well as hard hats when we reached the Kimmeridge Clay Formation. Geology isn't all glamour and sunshine!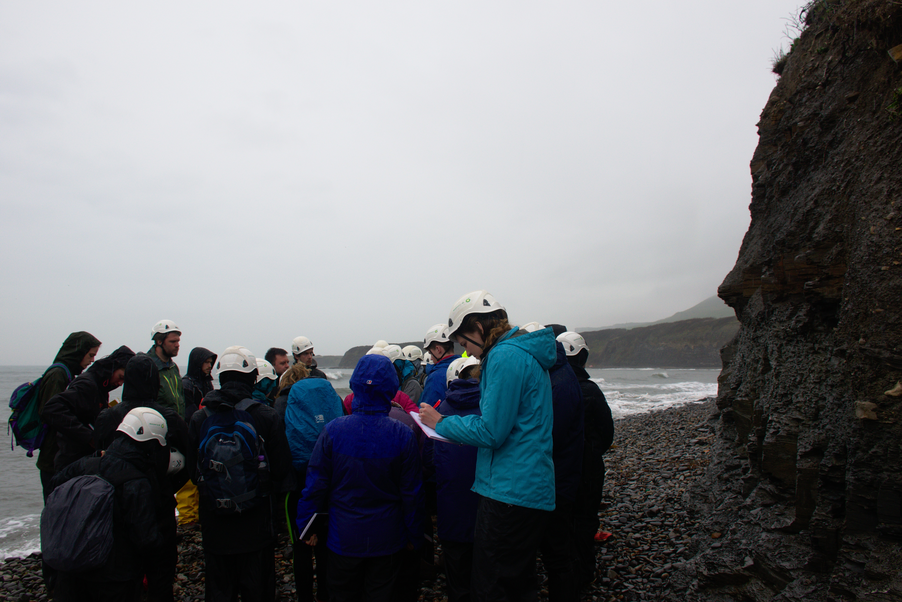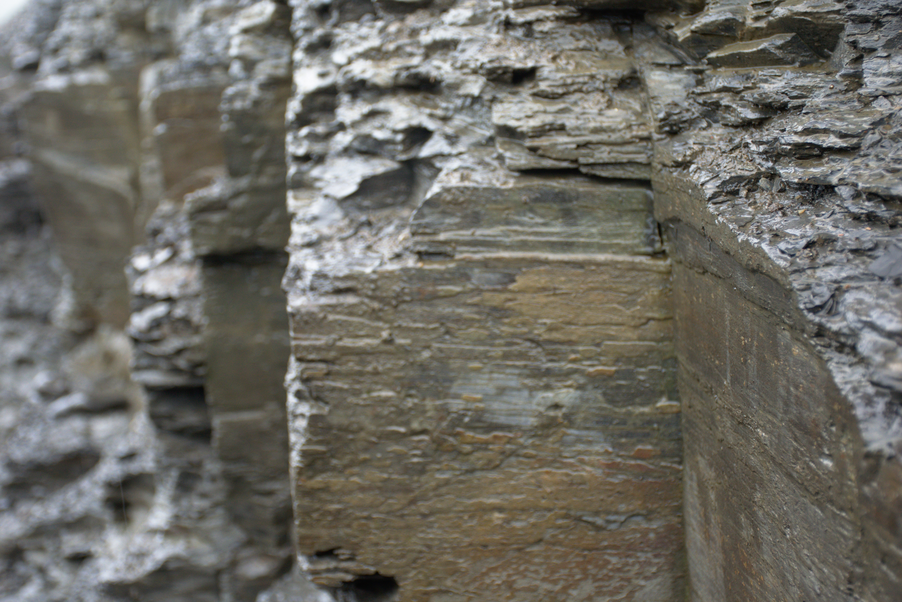 Safety concerns brought about by conditions meant we had to curtail our visit. We made our way to the Steve Etches Collection, now housed in a beautiful purpose-built museum (opened 21st October 2016). Steve gave an insight into his life as a 'fossil hunter', telling us how he'd found, carried and cared for some of the treasures on display.
After lunch the sky had cleared and the sun shone bright and we moved on to Osmington Mills. The students were asked to create sedimentary logs for the evening talks, documenting the various layers on display.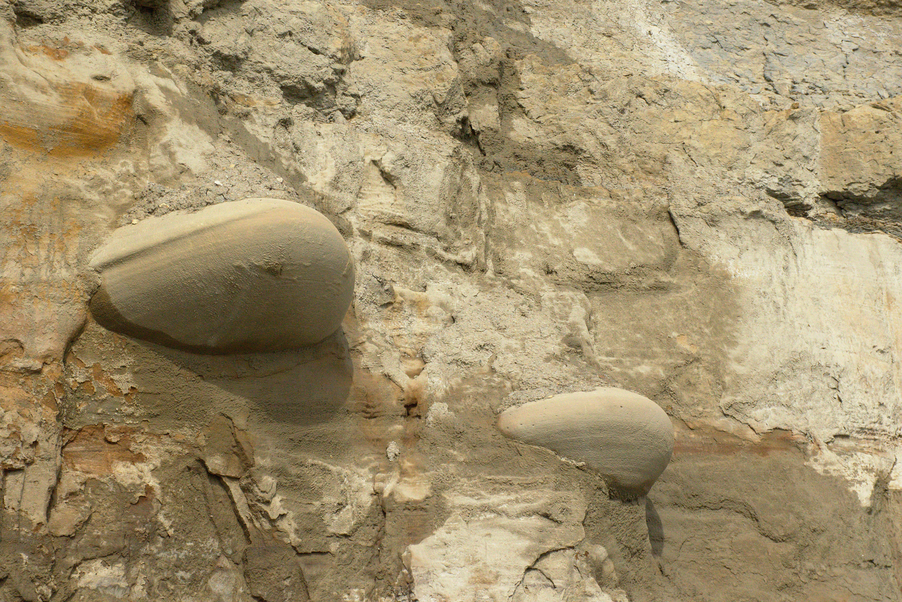 Day 4 – Seaton to Beer, Lyme Regis
We started the day in Seaton to examine a beautiful red cliff seeming to be standing, almost, by itself, it looked to me like a piece of giant sculpture.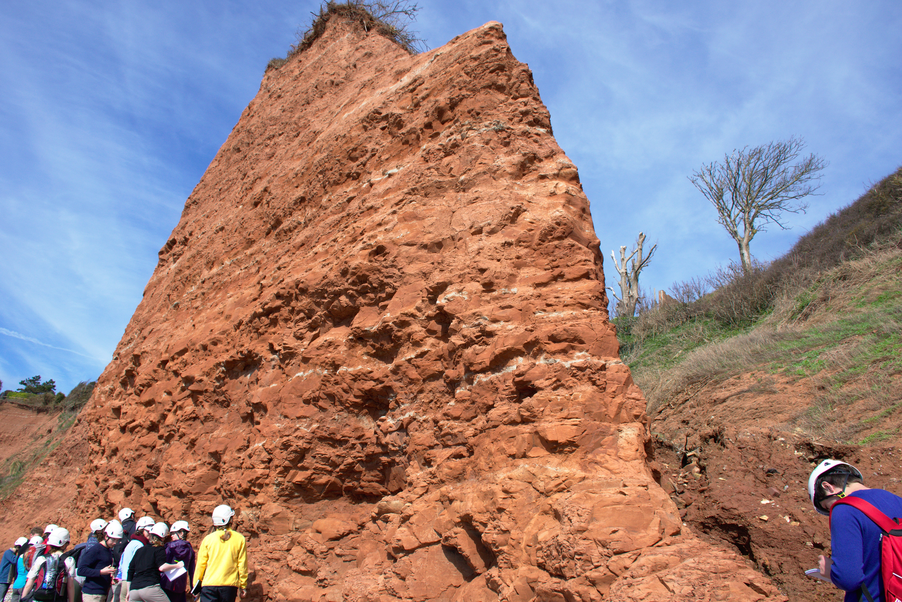 From there we walked over some rather steep hills to the bay in Beer.

Lyme Regis was our next stop. It had fossils galore, the ground literally embedded with ammonites, in the Blue Lias.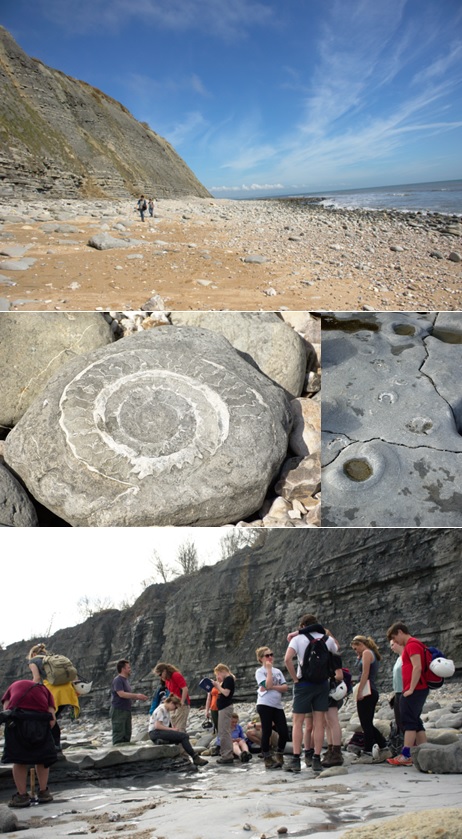 Day 5 – Durdle Door to Lulworth Cove
In terms of famous outrageously mind blowing geology this was perhaps the best day; even I could see that. This was the day, after a brief talk, the students would create a geological map of the area from Durdle Door to Lulworth Cove.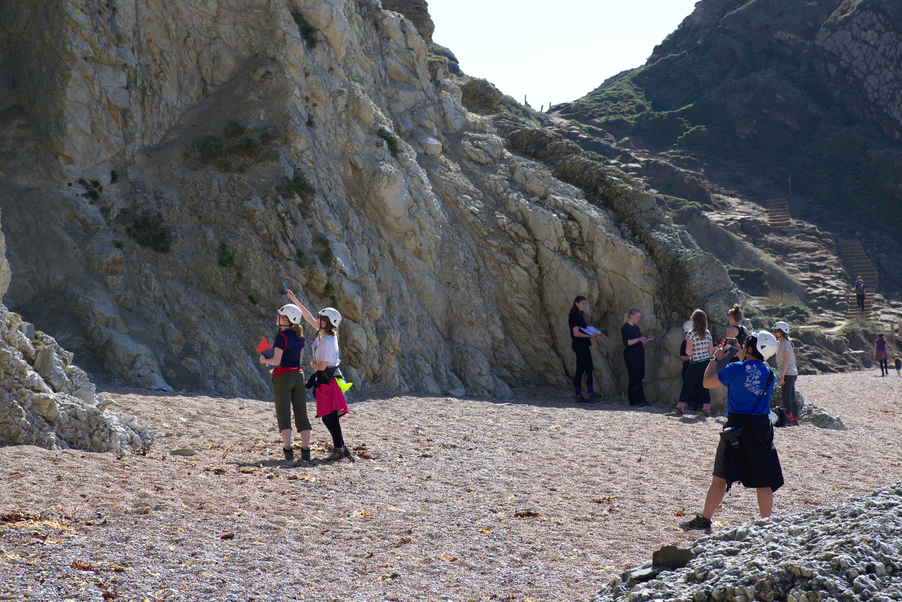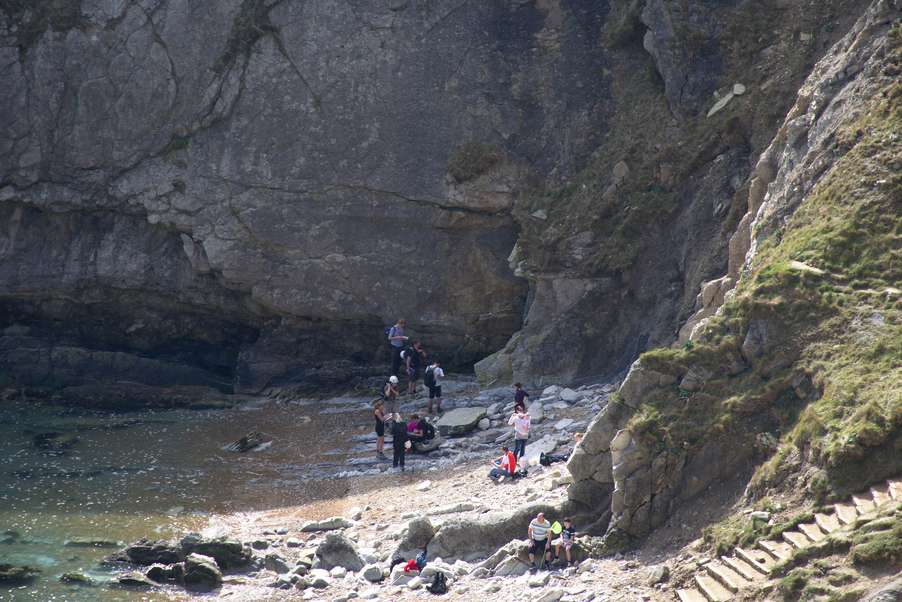 While the students were mapping along the shore we walked via the coastal path to Lulworth Cove.
Day 6 – Winspit quarry and home
Our last morning took us to Winspit after a steep walk down sheep-dotted hills.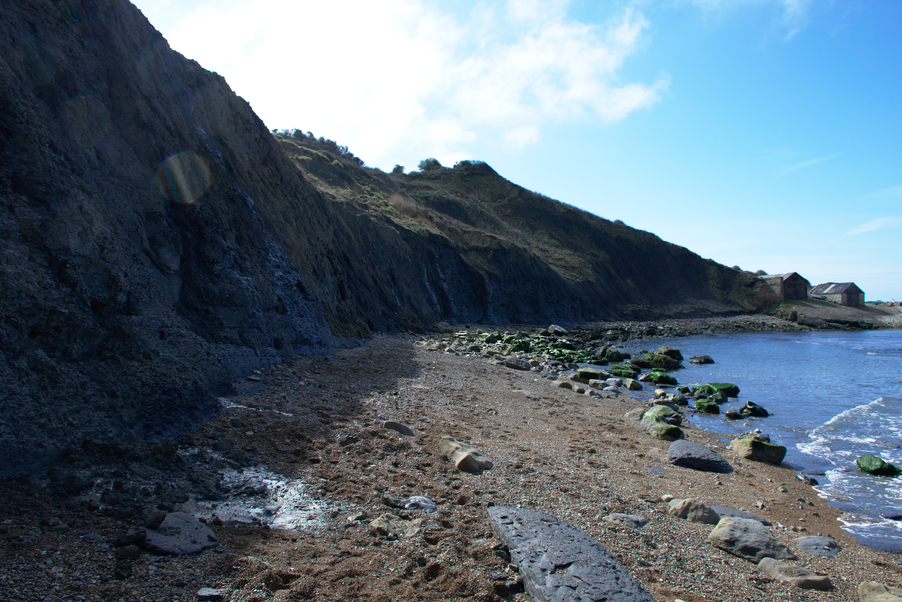 We walked back to the village of Worth Matravers for a lunch of pasties & cider at the Square & Compass before boarding the coach to take back us to Cambridge.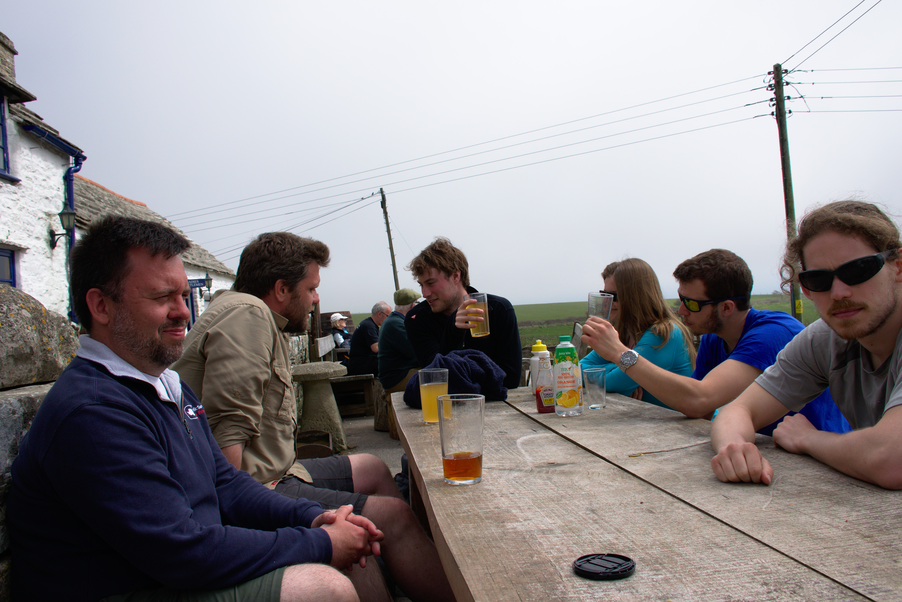 The 1B SouthWest Trip didn't surpass Arran but it certainly equalled it. On a personal level, I'd say I preferred the sedimentary and palaeo materials I was privileged to see on the Dorset trip. What this experience did for me (and I hope for our students) is open my eyes to a completely different aspect to the study of the earth, what it is made of and how it all fits together.
I'd like to thank the department for making it possible for me to go on this trip, my fellow staff members and the students for making this a wonderful experience.
Sarah Humbert Earth Sciences Librarian