Nothing brings students together like a good field trip.
2014's third batch of 36 Cambridge 1A undergraduate geologists arrived by coach to the Scottish coastal paradise of Ayr on the 27th April. The traditional Station Hotel (part gothic mansion, part haunted house, part correctional facility) was replaced for the first time with the bright lights of the shiny Ayr Mercure Hotel where students and staff alike gratefully sank into their plush pillows after the 8 hour trip from Cambridge.
The following morning, geology started in earnest with successful visits to the pillow lavas, turbidites and conglomerates of the Ayrshire coast – a section of the old Tethyian margin. With the first full field day under our belts, only a simple ferry trip stood between us and the mythical isle of Arran. One crashed ferry, a four hour wait, 40 portions of fish and chips, two 'vegetarian' deep-fried pizzas and plentiful tubs of mayonnaise later, we eventually boarded the replacement boat, finally arriving at the Lochranza field centre late that evening.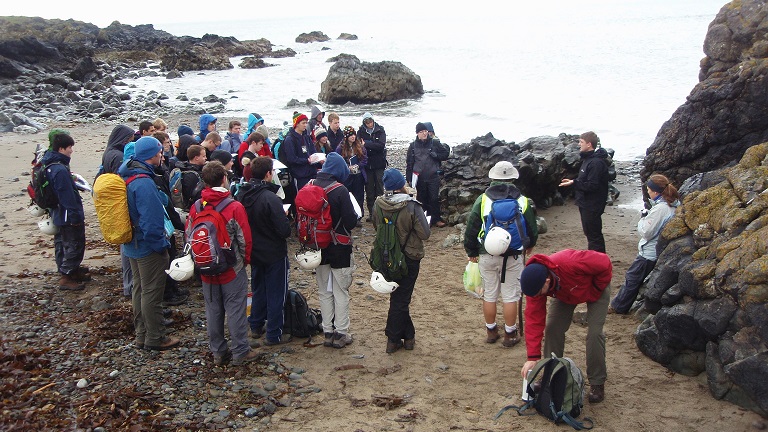 Having successfully made it to Arran, the islands fantastic geology and scenery combined with fair weather to produce a stunning introduction for the 1As to rocks in the wild. The mysteries of the British tertiary igneous province gave up their secrets to keen eyed students (and eventually the rest…) at the south coast Kildonnan dykes and the Drumadoon sill complex. For the sedimentologists, walking through a near-continuous stratigraphic section from Devonian flash-flood deposits through Carboniferous deltas and coals, ending in giant cross-bedded Permian desert sand-dunes on the Corrie foreshore proved a highlight.
April fool's day brought a pleasant walk along the west coast, taking in King's Cave where it is rumoured that Mel Gibson in preparation for Braveheart, and more recently head of department James Jackson, have spent several nights. The single dinosaur footprint proved the (at least temporary!) existence of a one-legged hopping dinosaur "Monopodes Hoggeria". Finally we reached the impressive Drumadoon sill itself (don't touch without oven gloves – it's still warm!).
The culmination of a week's introduction to the extensive Arran geology is a day of field mapping in North Glen Sannox. In pairs, students head up into the surrounding hills in search of outcrop, contacts and structures. The quality of the final maps, cross-sections and interpretations was very impressive, and the day's efforts warranted an evening trip to the well-stocked pub in Lochranza where the traditional staff-student boat race was comfortably won by the experienced demonstrators. Putting differences aside, the combined Cambridge team then saw off the modest challenge presented by the University of Aberdeen.
Once again, the Arran trip provided a perfect platform for the staff and students to bond over geology, and no doubt played a major part in the exceptional uptake of students into 1B Earth Sciences. Bring on 2015!
Mark Hoggard MSci 2007-2011, PhD 2011-2015