Before the unprecedented months of virtual everythings – hand sanitiser-soaked fingers and meetings in pyjama bottoms – I was happily enjoying my final year as an undergraduate. Whilst making the most of my time left in beautiful Cambridge and running the greatest student geological society there is (the unofficial title I awarded the Sedgwick Club), I found myself working on an interesting Master's project with Alex Liu. The exciting results that came out of this project gave me something to focus on whilst stuck at home in the months after graduation. I'll tell you more about my project, and my journey to getting my results published, in this blog post.
My project looked at the global distribution of some of the first known macro-organisms, including the earliest known animals, during the Ediacaran period – just before the Cambrian Explosion.
I started my research by diving into the literature and compiling a database with all the Ediacaran macro-biota that I could find (appropriately named The Ultimate Ediacaran Database in our Dropbox folder). I then used my QGIS skills – honed from my mapping project the previous year – to plot out the taxa distribution on different palaeogeographic reconstructions from the time period.
After almost two months of looking at genera names (it was all Latin to me!) and fossil photographs on my laptop screen, a few of us took a day trip to Bradgate Park to see my first Ediacaran fossils in the field! It was very exciting to finally put a (rock) face to the name.
When I first plotted up my data, all I saw initially was a map with coloured circles littered over it. I had no idea where to start looking. But I was excited to learn more – this was the first time anyone had looked at a global biodiversity map from the Ediacaran.
I took my work to Alex's office and we began to go through each different taxonomic group to see if any of them looked different. To our surprise, the fossil groups with a bilateral symmetry (mirrored along a central axis) were all clustered within 30° of the equator, whilst all other groups had a global distribution. We confirmed that this signal was genuine with statistical tests and the help of Emily Mitchell.
At least some of the fossils in this group are considered to be stem bilaterian metazoans – distant relatives of modern animals which are bilaterally symmetric, including you, me and your pet (unless you have a pet jellyfish). The patterns we observe in this group of little flat bilateral shapes therefore help us understand early bilaterian evolution and how we all began. Finding them only at low latitudes may suggest that they spread across the globe slower, or later, than other groups, or that their evolution favoured the warmer temperatures nearer the equator. We were all very excited by the findings and, once the stressful deadline for handing in the project had passed, Alex and I discussed the possibility of writing it up into my first paper.
Fast forward to June and lockdowns were in full swing. My final year in Cambridge had been cut short – I was writing exams from my bedroom floor and my dreams of May Week had been derailed. But I was free… my time as an undergraduate was over.
After catching up on some much needed sleep – 24 hour exams are difficult to sleep through at the best of times – I began discussions with Alex about our long awaited write-up. With no more supervision work or revision to keep me busy, I was keen to fill my time. We updated my database to include all the new data that had come out since my project, and I started to re-run the graphs and tests. The more I looked at the data, the more relationships I tried to plot. We ended up with more conclusions and figures than in my initial report and, months later, we are just about ready to publish our findings.
Back in December, I gave my first conference talk on our findings at PalAss. I was very grateful that my talk was on the second day, as I used the first day to get a feel for the format of a virtual conference. It was a very different experience from face-to-face conferences. My talk went well – I definitely felt it was easier to present to my laptop screen instead of an audience, that way I couldn't tell if people were super-excited by my work or furrowing their brows. I happily assumed the former. After the talk, the chat was full of questions. It was great to see so many people interested in my work and asking about the various ways we could expand. Of course, it was harder to have longer conversations as you would normally during breaks or the question sessions. I had been very nervous about the questions, so I was quite grateful I could answer most of them off-camera, in the chat.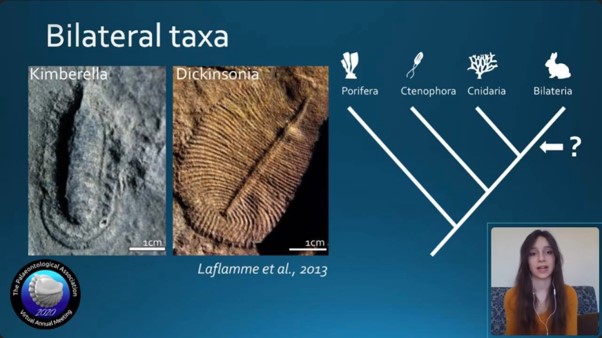 I am really looking forward to having my work published and out there for the world to see, and I have thoroughly enjoyed experiencing the highs and lows of the paper writing process. I cannot thank Alex enough for all of his help and support with this paper. Although I couldn't do it with the usual 11am coffee breaks in the common room, or visits to the library office with Sarah and her box of sweets, it has given me the opportunity to hold onto living a part of Cambridge life just a little longer.